IN 1987 THE FIRM DESIGNED AND BUILT OUR OFFICE AS ONE OF THE FIRST "GREEN" BUILDINGS IN NORTHWEST INDIANA, AND SUPPORTS THE GROWING INTEREST IN THE AREA.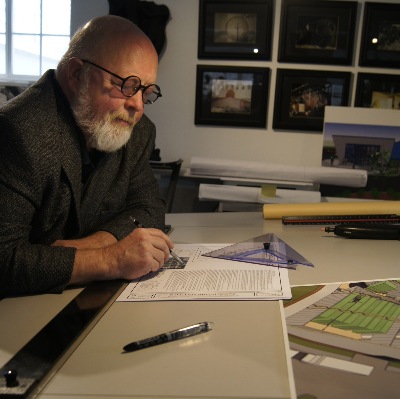 CLEON STUTLER

SPENDING HIS COLLEGE YEARS ATTENDING BALL STATE UNIVERSITY, CLEON ALSO INVESTED TIME IN INTERNING FOR VARIOUS ARCHITECTURAL FIRMS BEFORE EARNING HIS BACHELOR OF ARCHITECTURE AND ESTABLISHING HIS OWN FIRM IN 1977

WITH MORE THAN 40 YEARS OF EXPERIENCE, CLEON HAS WORKED IN ARCHITECTURE AND CONSTRUCTION MANAGEMENT FOR RESIDENTIAL, COMMERCIAL, INDUSTRIAL, RELIGIOUS, AND GOVERNMENTAL BUILDINGS. HIS BROAD BASE OF WORK EXTENDS ACROSS INDIANA AND ILLINOIS, AND THE CONNECTIONS HE'S BUILT IN THE YEARS OFFERS A VARIETY OF PERSONAL, IN DEPTH HELP ON PROJECTS.


OUR LONG RELATIONS WITH CONTRACTORS ALLOW US TO PROVIDE OUR CUSTOMERS WITH THE BEST BUILDING DESIGN THAT WILL FIT THEIR BUDGET, IN A TIMELY FASHION.